How food dehydration originated
Dehydrating food is a method that has been around for centuries. Before freezers and refrigerators, food did not have preservatives or freeze-dried items. Depending on how the food was processed, it was either consumed soon after being prepared, dried, or salted. The sun was the original dehydrator. It was common to hang food such as meats on racks to dry in the hot sun. The Romans, for example, developed techniques of food dehydration. Even "still houses" were built to dry foods in climatic conditions where the sun didn't provide sufficient protection. Large bonfires were made in these houses to create enough heat to dry food or smoke food.
So why not try dehydrating fresh mushrooms at home with a dehydrator or in the oven and then using dried mushrooms in your kitchen. Dried mushrooms are very aromatic and have a long shelf life.
Which is better than fresh mushrooms or dried mushrooms
Fresh mushrooms are perishable, so it is advisable to consume them immediately after collecting or purchasing them. But you want to pamper your family with mushroom dishes at any time of the year. Despite the fact that you can go and buy them at the nearest supermarket, but again, not all types of mushrooms, and already at a price that can be high, we think that drying mushrooms are what you need.
Drying mushrooms is one of the best ways to preserve them. After dehydration of the mushrooms, they retain their taste and we can say that the taste of mushrooms is significantly enhanced and dehydration of the mushrooms does not affect their taste. This is one of the distinguishing features of mushrooms, that after dehydration and then their further use, they improve the taste of the dish, and another feature is they are well stored.
Preparing mushrooms for dehydration at home
It's really easy to dry mushrooms. They dry much faster than other vegetables due to their texture and porousness.
Cleaning them is necessary before dehydrating or preparing them. Brushing mushrooms with a soft brush is the most effective way to clean them.
It is recommended to use a dry soft brush to remove any debris and growing medium that may be present on the mushroom surface rather than using water, which will cause the mushrooms to absorb moisture faster.
The mushrooms you wish to dry should be sorted. Removing broken or damaged pieces is essential.
How thick should the sliced ​​mushrooms be?
Drying mushrooms greatly reduces their size. Approximately half of the original size of mushroom can be lost depending on the type and texture of mushroom being dried.
Optimally, in my experience, fresh mushrooms are usually sliced ​​about 5-6 mm (1/4 inch) thick.
But in any case, everything will depend on the type of fresh mushroom, there are large mushrooms, others are small, such as champignons, and it is better to cut them in half. In any case, look at the size and decide on the spot.
If the mushrooms are small or medium in size, there is no reason not to dry them whole. It is important to keep in mind that the thicker the mushroom pieces are, the longer it will take them to dehydrate completely.
The Dehydrator – Dehydrating Mushrooms
You don't need a special dehydrator to dehydrate the mushrooms. You can dehydrate mushrooms in the simplest dehydrator and get great results. To dehydrate the mushrooms in the dehydrator, spread the sliced ​​mushrooms evenly on the dehydrator trays, leaving little space between them. The slices should lie in one layer for better air circulation and not touch each other. Make sure the dehydrator is set to a low to medium setting and let it run for about 2-3 hours before checking the result. In a dehydrator, 1/4-inch diameter mushroom slices are usually dehydrated for 3 to 6 hours.
Dehydrating Mushrooms In The Oven
A screen or rack to lay the pieces of mushroom on while they dehydrate in the oven will be necessary. Arrange the mushroom pieces across multiple racks in one even layer. To allow plenty of airflow, there should be space between the mushrooms. Set the oven to the lowest temperature. Ensure that the fan on the machine is running. Drying is about airflow just as much as temperature so if there is no fan in the oven keep the door cracked to allow air to circulate around the oven. The heat from an oven is often higher than that from a dehydrator, but the airflow is much less directed, so it may take up to eight hours for the product to dry. The drying will be less consistent in an oven so rearrange the racks and mushrooms every so often to help even out the drying.
How long will it take you to dehydrate mushrooms?
Mushrooms tend to dry quite well because of their porous texture. The texture and water content of the mushrooms make it difficult to estimate how long they will take to dry.
Sliced ​​regular white mushrooms about 1/4 inch thick will dehydrate:
Dehydrator: 3 – 6 hours
Oven: 2 1/2 – 8 hours
Mushroom Testing – What You Need To Do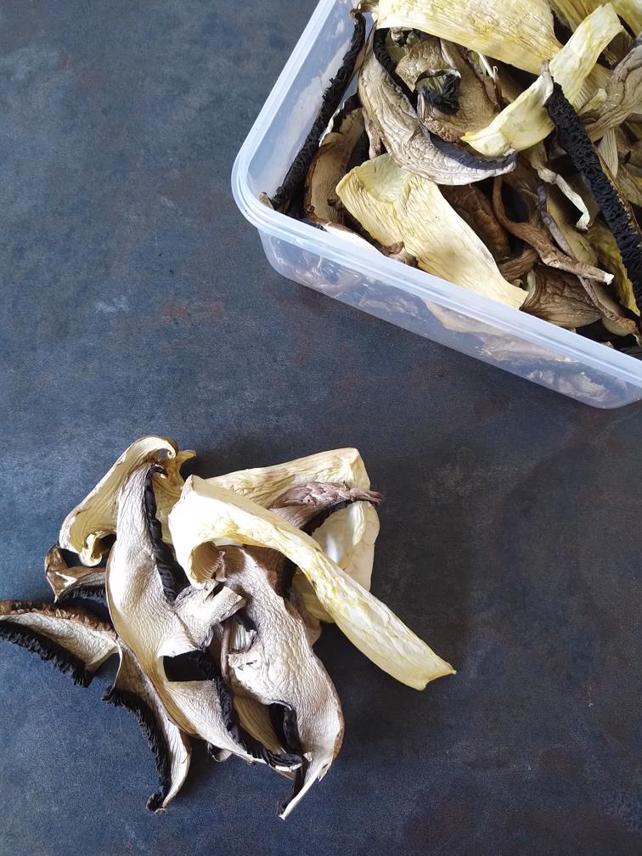 If you are dehydrating mushrooms, you should use your senses to determine how dry they are.
You may notice that the mushrooms appear less growing and perhaps shriveled in places.
Dehydrated mushrooms are very light in weight and their texture can range from crisp to leathery.
Depending on the type of mushroom, some may curl when dried.
Dried Mushrooms: How To Use Them
Dried mushrooms are a great addition to any dish from soups to meat. Adding them to stock, stews, risotto, and sauces makes them irresistible. It is very easy to rehydrate dried mushrooms. There should be ample liquid for them to reabsorb in any dish. If you want to moisturize them, dip the mushrooms in a little boiled water. The mushrooms will be hydrated in just a few minutes, and the water can also be used to flavor dishes as it is really spicy and aromatic. You can also grind them into powder, and add the powder into lots of different dishes. In powdered form, they are even good in smoothies. You can even make mushroom tea with your dried mushrooms. There are many ways that you can use your dried mushrooms.
How Long Do Dried Mushrooms Last
Storing dried mushrooms properly is the key to giving them a long shelf life. After drying, they should be stored in an airtight container in a cool, dark location. Any moisture or humidity will quickly be reabsorbed by the mushrooms. In an airtight container or securely sealed ziplock bag mushrooms can last 6 months to a year. The most important thing is to keep them out of direct sunlight and heat, so that condensation doesn't occur.
Dehydrating Mushrooms In a Dehydrator
prep time: 15 MINUTES
cook time: 6 HOURS
additional time: 2 HOURS
total time: 8 HOURS 15 MINUTES
Ingredients
Instructions
Spread the sliced ​​mushrooms in one layer on baking sheets, leaving a small space for air to circulate between them. Set the dehydrator to low to medium heat and let it run for about 2-3 hours before checking for dehydrated mushrooms. In my experience, 1/4 inch mushrooms usually need to be dehydrated for 3-6 hours in a dehydrator.
Receipt for making mushroom powder from dried mushrooms
The benefits of dried mushrooms are hard to ignore. Dried mushrooms have a long shelf life and are in powder form, they are very convenient to use in cooking. Place the prepared dehydrated mushrooms in a food processor; you can also use a food blender to make mushroom powder. Start by turning it on and off for about 15 seconds to break up large chunks. When using a blender, you may need a longer pulsation, stirring the powder in between to blend the larger pieces. This will ensure that you have a fine, lump-free powder. If you have a lot of mushrooms, grind them in batches for the perfect mushroom powder.
If you are using a blender, wait a few minutes before opening it, as this method of grinding can create a cloud of mushroom dust inside the container. So give a little time for the dust to settle.
Sift the resulting powder
No matter how carefully you grind the mushrooms, pieces of powder will inevitably remain. To make these pieces from mushroom powder, sift the powder through a sieve.
Grind the remaining hard pieces again
Return the unmilled mushroom slices to a food processor or blender for a final round of shopping. Once they reach the right consistency, they are ready. Combine all the mushroom powder and voila! You have your own homemade mushroom powder.
How to store mushroom powder
To extend the shelf life, place the mushroom powder in a zippered plastic bag. If you want it to last even longer, place it in an airtight glass jar. Store it away from direct heat and sunlight in a cool, dry place such as a kitchen cabinet. When dried properly, it can last anywhere from a month to a year. But we think that it won't stay in your kitchen for so long.
How to use mushroom powder
The mushroom powder is a versatile product that goes well with almost any meal.
Here are some ideas for where you can use mushroom powder to give your meals a magical flavor and aroma that will delight your family and your guests.
Use it as an ingredient in omelets and frittatas
Sprinkle it on your favorite salad recipe
Add it to minced burgers or meatloaf
Add it to pizza and pasta sauces
Add to vegetable dishes for flavor
Combine it with salt and some of your favorite spices for a delicious blend
Add it to stews, chili peppers, and soups
If you have any other ideas, please share them with us.
Use wherever you like mushroom flavor. The boundaries depend only on your tastes and desires!
Notes
Check the mushroom dehydration process after 3 hours and remove the mushrooms that are already cooked. The dehydrator can take up to 6 hours to completely dehydrate the mushrooms, depending on the type.
As you can see, the process of dehydrating mushrooms is not difficult, but the final result will delight you for a long time in the form of various dishes where you will add dehydrated mushrooms.
Bon Appetit!
FAQ
How long do dried mushrooms last?
Dried mushrooms, if stored properly, can be stored from a month to a year. The main thing is that they are stored in a well-closed container, away from sunlight.
Where to store dried mushrooms?
Store in a kitchen cabinet away from direct sunlight, heat, and moisture.
At what temperature to dry mushrooms?
150 degrees Fahrenheit – no higher, 135 degrees is suitable for more tender mushrooms.
How to restore dried mushrooms?
The liquid is the only way to moisturize the mushrooms. Just dip the mushrooms in hot water. Let them lie down and soak up the water.
How to cook with dried mushrooms?
Dried mushrooms can be added directly to soups and stews. In some dishes, the dried mushroom must be moistened first before adding to the dish. It's easy to do, just put the mushrooms in a dish and cover them with hot water for a few minutes. The liquid returns them to their original shape, so whether you want to toast them, use them in pizza toppings, or whatever, moisten them first.
What are the best-dried mushrooms for risotto?
Dried porcini mushrooms. Submerge them in water to rehydrate and then use that water to cook rice. This seems to give a fuller flavor than using fresh porcini mushrooms.
What can you do with dried shiitake mushrooms?
Shiitake is great for adding to any Asian dish, soups, stews, casseroles, frying, for making sauce.
Can I dry more than one type of fresh mushroom at the same time in a dehydrator?
In principle, you can by spreading them out on different trays of a food desiccant. Here you need to watch out for the mushroom slices because each type of mushroom will dry in a different way. And another thing you don't want to interfere with is the smells of different mushrooms. But the choice is always yours.